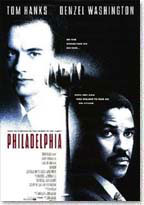 Andrew Beckett (Tom Hanks) is a senior associate at the largest corporate law firm in Philadelphia. Although he lives with his partner Miguel Álvarez (Antonio Banderas), Beckett is not open about his homosexuality at the law firm, nor the fact that he has AIDS. On the day he is assigned the firm's newest and most important case, one of the firm's partners notices a small lesion on Beckett's forehead.
Shortly thereafter, Beckett stays home from work for several days to try to find a way to hide his lesions. While at home, he finishes the complaint for the case he has been assigned and then brings it to his office, leaving instructions for his assistants to file the complaint in court on the following day, which marks the end of the statute of limitations for the case.
Beckett suffers from bowel spasms at home and is rushed to the hospital. Later that morning, while still at the ER, he receives a frantic call from the firm asking for the complaint, as the paper copy cannot be found and there are no copies on the computer's hard drive.
However, the complaint is finally discovered and is filed with the court at the last possible moment. The following day, Beckett is dismissed by the firm's partners, who had previously referred to him as their "buddy", but now question his professional abilities in light of the misplaced document.
Beckett believes that someone deliberately hid his paperwork to give the firm a pretext to fire him, and that the firing is actually as a result of his diagnosis with AIDS. He asks several attorneys to take his case, including personal injury lawyer Joe Miller (Denzel Washington), with whom he had been involved in a previous case.
Director: Jonathan Demme
Year of Release: 1993

Character to watch: Tom Hanks as Andrew Beckett.
Journal your answers to the following questions after you watch the movie.
How does this particular character's journey compare with yours?
Did the character develop certain characteristics during the movie that you have or that you would like to have? If so, what are those characteristics?
What obstacles did this character face? What was his or her biggest challenge?
What would you have done differently if you had been in the same position as the character?
Is this character the type of person you would be friends with? Why or why not?