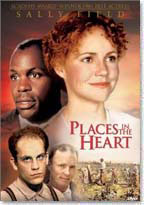 Edna Spalding finds herself alone and broke on a small farm in the midst of the Great Depression when her husband the Sheriff (Yankton Hatten) is killed in an accident. A wandering black man, Moze (Danny Glover), helps her to plant cotton to try and keep her farm and her kids together.
The banker makes a call to the Spalding house with his brother-in-law, Will (John Malkovich), who has been blinded in the war and is living with him. The banker deposits Will at the doorstep and negotiates with Edna to take him in as a boarder. He pretends to do it out of charity, mentioning that he is a dean of the local church, but when she politely refuses, he then reminds her about the bank loan. He is obviously eager to unburden himself of his handicapped brother-in-law.
At the bank, Edna is faced with the obvious facts: with cotton prices dropped to 3.5 cents a pound, this will only generate 175 dollars. Unfortunately, this is not enough for the house payment and there is no chance of cotton prices increasing any time soon. She leans on the banker to ask the bank president about making only part of the payment. During her wait in the bank, Edna sees pictures of the Ellis County prize of $100 for the first bale of cotton brought in to the gin.
Places In The Heart is director Robert Benton's look back at life in Depression era Texas. Sally Field stars as Edna Spalding, a recent widow who struggles and fights to keep her family together by raising cotton. She enlists the help of a drifter named Mose who knows the in and outs of growing cotton. One hurdle is that Mose is black and the locals make it rough on them. Danny Glover is superb as Mose as is John Malkovich as a blind boarder, Will.
Lindsay Crouse and Ed Harris are Edna's sister and brother-in-law and  Crouse is excellent as she struggles with the philandering ways of her husband. But through it all, Field carries the film. She perfectly conveys the determination of a woman facing tremendous odds. she shows a strong front, but a touching vulnerability when facing set back after set back.
Director: Robert Benton
Year of Release: 1984

Character to watch: Sally Field as Edna Spalding.
Journal your answers to the following questions after you watch the movie.
How does this particular character's journey compare with yours?
Did the character develop certain characteristics during the movie that you have or that you would like to have? If so, what are those characteristics?
What obstacles did this character face? What was his or her biggest challenge?
What would you have done differently if you had been in the same position as the character?
Is this character the type of person you would be friends with? Why or why not?