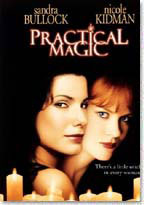 Sally (Sandra Bullock) and Gillian (Nicole Kidman) Owens have always known they were different. Raised by their aunts (Stockard Channing and Dianne Wiest) after their parents' death, the sisters grew up in a household that was anything but typical. For example, their aunts fed them chocolate cake for breakfast and taught them the uses of practical magic.
Unfortunately, the invocation of the Owens' family sorcery also carries a price, some call it a curse: the men they fall in love with are doomed to an untimely death. As adult women with very different personalities, the quiet Sally and the fiery Gillian must use all of their powers to fight the family curse and a swarm of supernatural forces that threatens the lives of all the Owens women.
Sandra Bullock and Nicole Kidman are wonderful as two sisters in this movie. Their on-screen chemistry is amazing. You can't help but smile as they joke with each other and interact because it reminds you of how you were with a close sibling or how you wish you could be with one.
Stockard Channing and Dianne Wiest are amazing. As supporting actresses, they almost steal the show as they are described as the aunts who are "sugar and spice" by the director, Griffin Dunne.
The story is about two sisters who are very close who live with their aunts in what I assume is a New England town.
They have the reputation of being "witches" who curse any man who dares love an Owens woman. Of course, Gillian (Nicole Kidman) and Sally (Sandra Bullock) get into a bit of trouble as Gillian's evil boyfriend Jimmy (Goran Visnjic) ends up dead at their hands through self-defense that can be deemed suspicious by anyone else and they try to figure out a way to cover it up.
Things get stickier when the Officer Hallet (Adian Quinn) shows up to find the wanted Jimmy and sparks fly between Sally and Officer Hallet.
Director: Griffin Dunne
Year of Release: 1998

Character to watch: Sandra Bullock as Sally Owens.
Journal your answers to the following questions after you watch the movie.
How does this particular character's journey compare with yours?
Did the character develop certain characteristics during the movie that you have or that you would like to have? If so, what are those characteristics?
What obstacles did this character face? What was his or her biggest challenge?
What would you have done differently if you had been in the same position as the character?
Is this character the type of person you would be friends with? Why or why not?