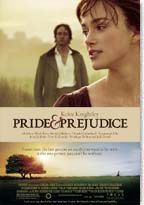 During the late 18th century, the Bennet family, consisting of Mr. and Mrs. Bennet (Donald Sutherland, Brenda Blethyn) and their five daughters—Jane (Rosamund Pike), Elizabeth (Keira Knightley), Mary (Talulah Riley), Kitty (Carey Mulligan), and Lydia (Jena Malone)—live in comparative financial independence as gentry on a working farm in rural England.
As Longbourn is destined to be inherited by Mr. Bennet's cousin, Mr. Collins (Tom Hollander), Mrs. Bennet is anxious to marry off her five daughters before Mr. Bennet dies.
Wealthy bachelor Charles Bingley (Simon Woods) has recently moved into Netherfield, a large, nearby estate. He is introduced to local society at an assembly ball, along with his haughty sister Caroline (Kelly Reilly) and reserved friend, Mr. Darcy (Matthew Macfadyen), who "owns half of Derbyshire." Bingley is enchanted with the gentle and beautiful Jane, while Elizabeth takes an instant dislike to Darcy after he coldly rebuffs her attempts at conversation and she overhears him insult her.
When Jane becomes sick on a visit to Netherfield, Elizabeth goes to stay with her, verbally sparring with Caroline and Darcy. Later the Bennets are visited by Mr. Collins, a pompous clergyman who decides to pursue Elizabeth. Meanwhile, the handsome and charming Lieutenant Wickham (Rupert Friend) of the newly-arrived militia captures the girls' attention; he wins Elizabeth's sympathy by telling her that Darcy had cheated him of his inheritance.
At a ball at Netherfield, Elizabeth, startled by Darcy's abrupt appearance and request, accepts a dance with him, but vows to her best friend Charlotte Lucas (Claudie Blakley) that she has "sworn to loathe him for all eternity." During the dance, she attacks him with witty sarcasm and Darcy responds in kind.
Months later, Elizabeth visits the newly-wed Mr. and Mrs. Collins at Rosings, Lady Catherine's (Judi Dench) manor estate; they are invited to dine there, and meet Darcy. Here Darcy shows greater interest in Elizabeth, especially when she replies to Lady Catherine's jabs with spirited wit.
Director: Joe Wright
Year of Release: 2005

Character to watch: Keira Knightley as Elizabeth Bennet.
Journal your answers to the following questions after you watch the movie.
How does this particular character's journey compare with yours?
Did the character develop certain characteristics during the movie that you have or that you would like to have? If so, what are those characteristics?
What obstacles did this character face? What was his or her biggest challenge?
What would you have done differently if you had been in the same position as the character?
Is this character the type of person you would be friends with? Why or why not?