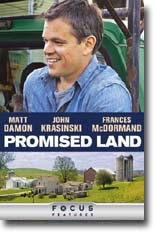 Steve Butler (Matt Damon), an ambitious salesperson for a natural gas corporation, has no doubt his persuasive skills will convince a small Pennsylvania town to allow hydraulic fracturing, or fracking, in their backyards. But when an environmental activist Dustin (John Krasinski) tries to stop Butler's efforts and woos a local teacher Alice (Rosemarie DeWitt) that Butler feels attracted to Butler's confidence starts to unravel.
On the surface, Promised Land seems like a political exposé, but it's really a character study; Damon brims with confidence but slowly reveals doubt and conflict within. The supporting performances are excellent, including Hal Holbrook as a skeptical science teacher and the ever-superb Frances McDormand, both flinty and vulnerable as Butler's sales partner.
Damon and Krasinski cowrote the script which is based on a story by novelist Dave Eggers, and smartly don't let the arguments get smug; moral curveballs get thrown whenever things seem too simple. The resolution is an uneasy mix of conspiracy theory and gangster-like activity, but the richness of the performances guided by director Gus Van Sant makes Promised Land as seductive as one of Butler's sales pitches.
The moral delimna here centers on Damon's position as the corporate salesman dispatched to the rural town of McKinley with his sales partner (McDormand) to offer much-needed relief to the economically hard-hit residents in exchange for drilling rights to their properties. What seems like an easy job for the duo quickly becomes complicated by a respected schoolteacher Frank (Hal Holbrook), slick environmental activist Dustin, and Steve's interest in a local, Alice. As they grapple with a surprising array of both open hearts and closed doors, the outsiders soon discover the strength of an American small town at a crossroads.
Director:  Gus Van Sant
Year of Release: 2012

Character to watch: Matt Damon as Steve Butler.
Journal your answers to the following questions after you watch the movie.
How does this particular character's journey compare with yours?
Did the character develop certain characteristics during the movie that you have or that you would like to have? If so, what are those characteristics?
What obstacles did this character face? What was his or her biggest challenge?
What would you have done differently if you had been in the same position as the character?
Is this character the type of person you would be friends with? Why or why not?