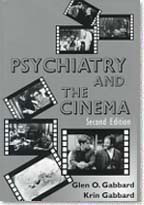 Early in the history of cinema, psychiatrists studied the movies to understand their appeal and power. Meanwhile, filmmakers have long been intrigued by psychiatry and frequently portray this mysterious world in film. Both movies and psychiatry focus on human thought, emotions, behavior, and motivation-making a link between the two subjects inevitable.
Psychiatry and the Cinema explores this complementary relationship from two angles, psychiatrists who have studied the movies and movies that have depicted psychiatry. This second edition looks at: Over 400 theatrically-released American films that feature psychiatrists or other mental health professionals at work.
The stereotypical characters and conventions dominating the presentation of movie psychiatrists and the historical rise and fall of the psychotherapist image in the movies.  New trends in psychoanalytically oriented film theory State-of-the-art understanding of psychoanalytic film criticism and illustrative examples of the use of that methodology with films such as "Casablanca, Alien, Three Women, Sea of Love, Working Girl, Good Will Hunting," and many more clinical implications of the film representations of psychotherapy for the mental health practitioner.  Both entertaining and educational, this book serves as an important aid in understanding the special hold that movies have on audiences.
I always eagered for a book which reviews movies from the viewpoint of 'pschoanalysis'. At last I found this book. What I liked most about this book is that it covers recent movies, like 'Good Will Hunting' or '12 Monkeys', which are my favorites. The stories of the reflected images and their changes throughout the film history of the psychiatrists who appeared in the movies were also interesting.
Author: Glen O. Gabbard, Krin Gabbard
Year of Release: 1999