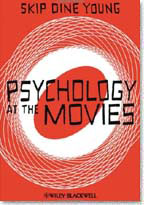 Psychology at the Movies explores the insights to be gained by applying various psychological lenses to popular films including cinematic depictions of human behavior, the psychology of filmmakers, and the impact of viewing movies.
Young does for both psychology and film theory what Zizek does for current political and cultural theory: he looks at complex academic theories through the rubric of pop-culture film and TV, and makes them accessible, relatable, and (most importantly) relevant to real life in a very readable (even enjoyable!) format.
Of course, Professor Skip doesn't seem to be the Marxist misanthrope and admitted madman that Zizek is, but nonetheless, he is also a scholar who can enlighten and entertain. This book offers the following:
Uses the widest range of psychological approaches to explore movies, the people who make them, and the people who watch them
Written in an accessible style with vivid examples from a diverse group of popular films, such as The Silence of the Lambs, The Wizard of Oz, Star Wars, Taxi Driver, Good Will Hunting, and A Beautiful Mind
Brings together psychology, film studies, mass communication, and cultural studies to provide an interdisciplinary perspective
Features an extensive bibliography for further exploration of various research fields
About the Author: Stephen 'Skip' Dine Young is a Professor of Psychology at Hanover College in Indiana where he has taught for fifteen years. His interests in psychology grew out of his experiences as a nomadic Army brat when he was able to observe the many ways people lived.
He eventually received his Ph.D. in clinical psychology from Clark University in Worcester, Massachusetts. At Clark, he studied development, therapy, symbolism, stories and movies. He is currently a licensed psychologist with interests in identity, college advising, and psychological assessment. Since his senior thesis at Miami University (Ohio), Skip has been combining his personal passion for popular cultural (particularly movies and music) with his scholarship.
Skip believes that movies can be "equipment for living"–they can take on personal meanings for viewers that impact our everyday lives (hopefully for the better). In addition to watching movies, he likes to interview people about the movies that have had a particularly powerful impact on them (or if you let him, he will go on and on about his own favorites). He is also obsessed with the music of Bob Dylan and has published and presented on Dylan's impact on his audience.
Author: Skip Dine Young
Year of Release: 2012