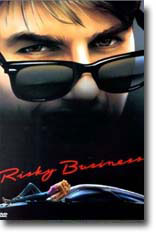 Little did Tom Cruise know that he would become a box-office superstar after he cranked up some Bob Seeger and played air guitar in his tidy whitey underwear. But there's much more to this hit than the arrival of a hot young star.
Making a stylish debut, writer-director Paul Brickman crafted a subtle satire of crass materialism wrapped in an irresistible plot about a crafty high schooler named Joel (Cruise) who goes into risky business with the beguiling prostitute Lana (Rebecca De Mornay) while his parents are out of town.
Joel turns his affluent Chicago-suburb home into a lucrative bordello and forms a steamy personal and professional partnership with Lana, but only as long as the two can avoid the vengeful pimp Guido (Joe Pantoliano) and keep their customers happy. A signature film of the 1980s, Risky Business still holds up thanks to Cruise's effortless charm and the movie's timeless appeal as an adolescent male fantasy.
This 25th anniversary edition has some decent commentary, plus the famous "original" ending that the studios wanted replaced. The director should thank them. What was framed as a "happy" ending is what gives the film a point of view– that there is no punishment for amorality. The director's preferred ending is weaker. The notion that somehow Joel and the hooker have a romantic future together is at odds with the cynicism of the film.
Director:  Paul Brickman
Year of Release: 1983

Character to watch: Tom Cruise as Joel Goodsen.
Journal your answers to the following questions after you watch the movie.
How does this particular character's journey compare with yours?
Did the character develop certain characteristics during the movie that you have or that you would like to have? If so, what are those characteristics?
What obstacles did this character face? What was his or her biggest challenge?
What would you have done differently if you had been in the same position as the character?
Is this character the type of person you would be friends with? Why or why not?