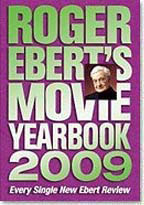 Nobody has been more important in telling Americans why we should love film than Roger Ebert. –Michael Shamberg, Editor and Publisher Pulitzer Prize-winning film critic Roger Ebert presents more than 650 full-length critical movie reviews, along with interviews, essays, tributes, film festival reports, and Q and As from Questions for the Movie Answer Man Roger Ebert's Movie Yearbook 2009 collects more than two years' worth of his engaging film critiques.From Bee Movie to Darfur Now to No Country for Old Men and from Juno to Persepolis to La Vie en Rose Roger Ebert's Movie Yearbook 2009 includes every review Ebert has written from January 2006 to June 2008.
Also included in the Yearbook which boasts 65 percent new content, are: Interviews with newsmakers, such as Juno director Jason Reitman and Jerry Seinfeld, a touching tribute to Deborah Kerr, and an emotional letter of appreciation to Werner Herzog.* Essays on film issues, and tributes to actors and directors who died during the year. Daily film festival reports from Cannes, Toronto, Sundance, and Telluride. All-new questions and answers from his Questions for the Movie Answer Man columns.
Nobody comes close to the art of movie reviews as elucidated and depicted by Roger Ebert. The reviews themselves are cinematic: they are dramatic, humorous, suspenseful and — most of all — fun. Roger Ebert IS a national treasure who will, unfortunately, not receive his due until years after he's left the theatre for the final time. However, Andru Reeve knows his true and lasting value. Pick up this and every other volume of his collected film reviews and you will, too.
About the Author: Roger Ebert is the Pulitzer Prize-winning film critic from the Chicago Sun-Times. His reviews are syndicated to more than 200 newspapers in the United States and Canada. The American Film Institute and the School of the Art Institute of Chicago have awarded him honorary degrees, and the Online Film Critics Society named his Web site, RogerEbert.com, the best online movie-review site.
Author: Roger Ebert
Year of Release: 2008