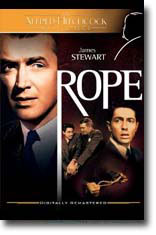 Rope is actually one of Hitchcock's experimental films masquerading as a standard Hollywood thriller. The plot of Rope is simple and based on a successful stage play: two young men (John Dall and Farley Granger) commit murder, more or less as an intellectual exercise. They hide the body in their large apartment, then throw a dinner party with the body still hidden there. Everyone, audience and characters alike wonder: Will the body be discovered?
Hitchcock, fascinated by the possibilities of the long-take style, decided to shoot this story as though it were happening in one long, uninterrupted shot. Since the camera can only hold one 10-minute reel at a time, Hitchcock had to be creative when it came time to change reels, disguising the switches as the camera passed behind someone's back or moved behind a lamp.
In later years Hitchcock wrote off the approach as misguided, and Rope may not be one of Hitchcock's top movies, but it's still a nail-biter. They don't call him the "Master of Suspense" for nothing. James Stewart, as a suspicious professor, marks his first starring role for Hitchcock, a collaboration that would lead to the masterpieces Rear Window and Vertigo.
Stewart plays Rupert Cadell, the professor of the two young murderers. As the movie progresses, Cadell eventually begins to suspect the crime. As the two students engage him in a discussion about Nietzschian philosophy, and specifically philosophy of the ubermensch (overman or superman), Stewart's character puts two and two together. The tension is so tight you hold your breath for the last half-hour, wondering if Cadell knows, and if he does, what he's going to do about it – and, more importantly, if he's in danger, too.
Director: Alfred Hitchcock
Year of Release: 1948

Character to watch: James Stewart as Rupert Cadell.