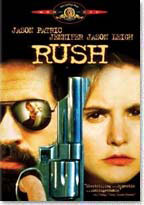 Seasoned undercover narcotics police officer, Jim Raynor (Jason Patric), is told by his superior, Lt. Dodd (Sam Elliott), to choose a partner from a group of recent police academy graduates for his undercover investigation, which has been ongoing for two years. His choice of Kristen Cates (Jennifer Jason Leigh) surprises Dodd, but Raynor is confident she is the right fit for what he needs.
Raynor explains to Cates that all they will have is each other in this assignment. They are caught between the legal world and the illegal underworld, belonging to neither and only able to trust one another. This is a difficult and demanding job, one that will take them both to the brink. Though initially startled by Raynor's intensity, Cates insists she is capable of doing whatever it takes to get the job done. Later at Raynor's apartment, he teaches Cates how to properly shoot up heroin.
Cates informs Raynor that she was instructed how to expertly fake drug use at the police academy, which prompts a strong rebuke from Raynor. He informs her in no uncertain terms that she will be put in situations where she will have to take the drugs they will be buying. The drug dealers they will be doing business with are not stupid, and if she tries to fake drug use in front of them, she will get both of them killed.
Raynor and now Cates's main objective in their operation is to take down the cunning, mysterious, and powerful drug lord Will Gaines (Gregg Allman). While Raynor (and the Tyler police department) is certain Gaines is the main drug boss in Tyler, Texas, Gaines is an expert at avoiding detection, and deeply mistrustful of Raynor. Unable to secure access to him, Cates and Raynor buy large quantities of drugs from minor dealers in Tyler. These drugs are cataloged and given to Dodd, along with information detailing who they bought the drugs from. Raynor and Cates quickly go from pretending to be lovers to the real thing.
Director: Lili Fini Zanuck
Year of Release: 1991

Character to watch: Jason Patric as Jim Raynor.
Journal your answers to the following questions after you watch the movie.
How does this particular character's journey compare with yours?
Did the character develop certain characteristics during the movie that you have or that you would like to have? If so, what are those characteristics?
What obstacles did this character face? What was his or her biggest challenge?
What would you have done differently if you had been in the same position as the character?
Is this character the type of person you would be friends with? Why or why not?