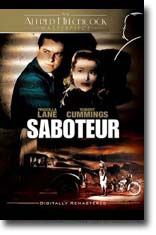 Saboteur is a riveting wartime thriller starring Robert Cummings as Barry Kane, a Los Angeles aircraft factory worker who witnesses a Nazi agent firebombing the plant where he works. Of course, it is Barry who is accused of the fiery sabotage, and to clear his name he sets off on a desperate, action-packed cross-country chase that takes him from Boulder Dam to New York's Radio City Music Hall to the top of the Statue of Liberty.
This was Hitchcock's first film with an all-American cast and it moves with breakneck speed toward its final heart-pounding confrontation and it remains a suspense classic.
Cummings' character Kane is a patriotic munitions worker with his falsely accused face plastered across the front page of every newspaper in the nation. Kane's only hope of clearing his name is to find the real villain. If this sounds a bit like Hitchcock's later North by Northwest, it is. There are interesting echoes throughout, including a heart-stopping sequence on top of a national monument.
The most interesting thing about Saboteur is the frequency with which characters demonstrate their willingness to obstruct the police, going on nothing more than the fact that Kane seems like a stand-up guy. They do, again and again, apparently just because good people can spot other good people.
Saboteur was made during the thick of World War II, so there are a few passages of heavy-handed jingoism to get through but they're relatively painless. The script as a whole is a clever one and the film is a terrific mix of humor and suspense. Saboteur is a pleasure whether you're a die-hard Hitchcock fan or just someone who likes a good nail-biter.
Director: Alfred Hitchcock
Year of Release: 1942

Character to watch: Robert Cummings as Barry Kane.
Journal your answers to the following questions after you watch the movie.
How does this particular character's journey compare with yours?
Did the character develop certain characteristics during the movie that you have or that you would like to have? If so, what are those characteristics?
What obstacles did this character face? What was his or her biggest challenge?
What would you have done differently if you had been in the same position as the character?
Is this character the type of person you would be friends with? Why or why not?