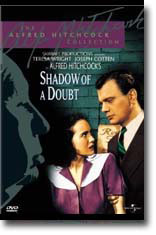 Alfred Hitchcock considered this 1943 thriller to be his personal favorite among his own films, and although it's not as popular as some of Hitchcock's later work, it's certainly worthy of the anyone's admiration.
Scripted by playwright Thornton Wilder and inspired by the actual case of a 1920's serial killer known as "The Merry Widow Murderer," the movie sets a tone of menace and fear by introducing a psychotic killer into the small-town comforts of Santa Rosa, California.That's where young Charlie (Teresa Wright) lives with her parents and two younger siblings, and where murder is little more than a topic of morbid conversation for their mystery-buff neighbor (Hume Cronyn).
Charlie was named after her favorite uncle, who has just arrived for an extended visit, and at first Uncle Charlie (Joseph Cotten) gets along famously with his admiring niece. At first, Charlie is overjoyed that her favorite uncle has come to visit the family, but she slowly begins to suspect that he is in fact the "Merry Widow" killer sought by the authorities.
The film's chilling prologue has already revealed Uncle Charlie's true identity as murderer, and the suspense grows almost unbearable when young Charlie's trust gives way to gradual dread and suspicion. Through narrow escapes and a climactic scene aboard a speeding train, this witty thriller strips away the façade of small-town tranquility to reveal evil where it's least expected. Of course, it's all done in pure Hitchcockian style.
Director: Alfred Hitchcock
Year of Release: 1943

Character to watch: Teresa Wright as Young Charlie.
Journal your answers to the following questions after you watch the movie.
How does this particular character's journey compare with yours?
Did the character develop certain characteristics during the movie that you have or that you would like to have? If so, what are those characteristics?
What obstacles did this character face? What was his or her biggest challenge?
What would you have done differently if you had been in the same position as the character?
Is this character the type of person you would be friends with? Why or why not?