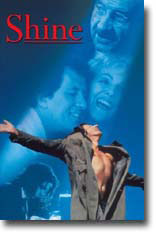 Based on the true story of Australian pianist David Helfgott, this delightful movie charts the traumatic early years through adulthood. Telling the story in flashback we see David as a child prodigy (Alex Rafalowicz) and as he grows up (Noah Taylor) while his patriarchal father abuses him and his siblings with the memory of his childhood in Europe and the loss of his family in the concentration camps.
David finally breaks away from his father and goes away to study overseas, David (Geoffrey Rush) later suffers a breakdown and returns to Australia and a life in an institution. Many years later he is released and through several twists of fate (in reality even more unlikely than film portrays) he starts playing a piano in a bar before finally returning to the concert hall.
In his masterful, Academy Award-winning performance, Geoffrey Rush shines as the adult David Helfgott, the real-life Australian concert pianist who suffers an emotional breakdown just as his musical career is about to take off. This passionate film looks at the musician's relationship with his demanding father and his triumphant recovery.
This tearjerker by Australian filmmaker Scott Hicks is a surprising story about real-life Helfgott who rose to international prominence at a very young age in the 1950s and '60s, and suffered a psychological collapse after enduring years of abuse from his father (Armin Mueller-Stahl).  Despite the Helfgotts' compromised psychological health, Shine is hardly a depressing experience. If anything, the story is really about how long one person's life can take to make glorious sense of itself.
Director: Scott Hicks
Year of Release: 1996

Character to watch: Geoffrey Rush as David Helfgott.
Journal your answers to the following questions after you watch the movie.
How does this particular character's journey compare with yours?
Did the character develop certain characteristics during the movie that you have or that you would like to have? If so, what are those characteristics?
What obstacles did this character face? What was his or her biggest challenge?
What would you have done differently if you had been in the same position as the character?
Is this character the type of person you would be friends with? Why or why not?