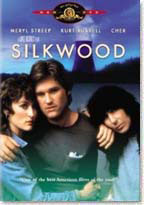 Karen Silkwood (Meryl Streep), a worker at the Kerr-McGee Cimarron Fuel Fabrication Site (near Crescent, Oklahoma), shares a ramshackle house with two co-workers, her boyfriend Drew Stephens (Kurt Russell) and her lesbian friend Dolly Pelliker (Cher). She makes plutonium fuel rods for nuclear reactors, where she deals with the threat of exposure to radiation. She has become a union activist, concerned that corporate practices may adversely affect the health of workers. She is also engaged in a conflict with her former common-law husband in an effort to have more time with their three children.
Because the plant has fallen behind on a major contract, employees are required to work long hours of overtime. She believes that managers are falsifying safety reports and cutting corners wherever possible, risking the welfare of the personnel.
Karen approaches the union with her concerns and becomes active in lobbying for safeguards. She travels to Washington, D.C. to testify before the Atomic Energy Commission. She interacts with union officials who appear to be more interested in the publicity she is generating than her welfare and that of her co-workers.
When Silkwood and other workers become contaminated by radiation, plant officials try to blame her for the incident. When she discovers that negatives of photographs of faulty fuel rods have been retouched and records of inadequate safety measures have been altered, she decides to conduct an investigation of her own. Complications arise in her personal life when Angela, a funeral parlor beautician, joins the household as Dolly's lover. Unable to deal with Silkwood's obsession with gathering evidence, her lover Drew moves out.
Once she feels she has gathered sufficient documentation, Silkwood contacts a reporter from the New York Times and arranges a nighttime meeting. In the film's final moments, the scene fades out as Silkwood, on her way to the meeting, sees approaching headlights in her rear-view mirror, which draw up so close that they blind her and make her unable to watch the road ahead. The scene fades in on the aftermath of her fatal one-car crash, and the viewer is left to decide whether the crash was an accident.
Director: Mike Nichols
Year of Release: 1983

Character to watch: Meryl Streep as Karen Silkwood.
Journal your answers to the following questions after you watch the movie.
How does this particular character's journey compare with yours?
Did the character develop certain characteristics during the movie that you have or that you would like to have? If so, what are those characteristics?
What obstacles did this character face? What was his or her biggest challenge?
What would you have done differently if you had been in the same position as the character?
Is this character the type of person you would be friends with? Why or why not?