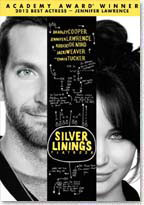 Pat Solitano Jr. (Bradley Cooper) is released from a mental health facility into the care of his parents after eight months of treatment for bipolar disorder. During his time there, he forms a close friendship with a fellow patient, Danny (Chris Tucker), who is having legal disputes with the hospital which constantly prevents him from leaving.
Pat soon learns that his wife, Nikki, has moved away and his father, Pat Sr. (Robert De Niro), is out of work and resorting to bookmaking to earn money to start a restaurant. Pat is determined to get his life back on track and reconcile with Nikki, who obtained a restraining order against him after the violent episode that sent him away.
While talking to his court-mandated therapist Dr. Patel (Anupam Kher), Pat explains again why he was hospitalized. Coming home early from his high school teaching job, noticing clothes thrown on the floor and his wedding song Stevie Wonder's "My Cherie Amour" playing, he finds Nikki in the shower, with another man. Enraged, he nearly beat the man to death. Despite this, Pat doesn't believe he needs medication to manage his condition.
At dinner with his friend Ronnie, he meets Ronnie's sister-in-law, Tiffany Maxwell (Jennifer Lawrence), a recent widow who also just lost her job. Pat and Tiffany develop an odd friendship through their shared neuroses, and he sees an opportunity to communicate with Nikki through her. Tiffany offers to deliver a letter to Nikki, if in return he will be her partner in an upcoming dance competition.
He reluctantly agrees and the two begin a rigorous practice regimen over the following weeks, with help from Danny, who is eventually released. Pat believes the competition will be a good way to show Nikki he has changed and become a better man. Tiffany gives Pat a typed reply from Nikki, in which she cautiously hints there may be a chance for a reconciliation between them.
Director: David O. Russell
Year of Release: 2012

Character to watch: Jennifer Lawrence as Tiffany Maxwell.
Journal your answers to the following questions after you watch the movie.
How does this particular character's journey compare with yours?
Did the character develop certain characteristics during the movie that you have or that you would like to have? If so, what are those characteristics?
What obstacles did this character face? What was his or her biggest challenge?
What would you have done differently if you had been in the same position as the character?
Is this character the type of person you would be friends with? Why or why not?