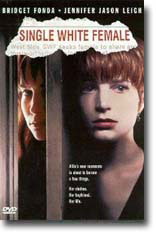 You can take this 1992 thriller one of two ways: it's either a highly suspenseful movie about an unfortunate young woman's psychological breakdown, or it's a glossy slasher movie starring two of Hollywood's best young actresses. Or maybe it's both at the same time. However you look at it, there's no denying that this is a dynamite showcase for Leigh as Hedra, the roommate from hell who becomes the bane of Allison's (Fonda) existence.
First, Hedra picks up Allison's mannerisms, then starts to borrow her wardrobe, cuts her hair to resemble Allison's, and even "borrows" her roomie's boyfriend for a deceitful night of lovemaking. By that point, Allison is naturally freaking out, and, well, that's when the whole thing gets really scary.
Single White Female is a nifty little shocker, and director Barbet Schroeder brings intelligence and style to the material. Add that to the fine performances by the battling roommates and you've got a movie that will make you think twice before inviting total strangers to live with you.
As the movie starts, Allison puts an ad in the newspaper for a room mate wanted, a single white female. She quickly gets a response from Hedra and has Allison convinced that they would be great room mates. She moves in and seems like the perfect room mate. As this movie progresses, Hedra becomes totally out of control while Allison fears for her life in this psychological thriller. Allison begins to notice some of her belongings missing and Hedra's style and personality changing.
Before long, Hendra's obsession with Allison's life proves it's self when Hendra gets a complete make over and looks exactly like Allison. When Allison finds out and confronts her about it, the film takes off into violence, mild gore, insanity, and murder. Allison tries to uncover Hendra's dark past before Hendra's increasingly violent behavior targets her.
Director: Barbet Schroeder
Year of Release: 1992

Character to watch: Bridget Fonda as Allison Jones.
Journal your answers to the following questions after you watch the movie.
How does this particular character's journey compare with yours?
Did the character develop certain characteristics during the movie that you have or that you would like to have? If so, what are those characteristics?
What obstacles did this character face? What was his or her biggest challenge?
What would you have done differently if you had been in the same position as the character?
Is this character the type of person you would be friends with? Why or why not?