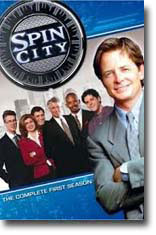 Spin City is a smart, sophisticated ABC sitcom about the behind-the-scenes workings of City Hall in the biggest city in America. Workaholic Mike Flaherty (Michael J. Fox) is the Deputy Mayor of New York City, serving as Mayor Randall Winston s (Barry Bostwick key strategist and much-needed handler.
Mike runs the city with the help of his oddball staff: an anxious and insecure press secretary (Richard Kind); a sexist, boorish chief of staff (Alan Ruck); an impeccably groomed gay activist running minority affairs (Michael Boatman); a sharp and efficient, man-crazy accountant (Connie Britton); and an idealistic young speechwriter (Alexander Chaplin).
Like Mike, they are all professionally capable but personally challenged.In this sitcom Flaherty and his City Hall staff must stop dim-witted Mayor Winston from embarrassing himself in front of the media and the voters.
A favorite episode is "Kiss Me Stupid" where another childhood crush, Luke Perry returns to his former boyfriend Carter with some very important but unexpected news. After having dated each other for a while, Luke's character now dates women, even planning on marriage. Spence Kamer wants Carter to be his best man for this impending ceremony.
Spin City marked a major comeback for a film/TV vet. Who'd been through a rough decade up to this point. From the very first Episode of the series, you get the idea that Micheal J. Fox doesn't give up easily. The Show really was his to carry. Although his supporting cast-mates do the absolute best to keep up with him. The Show is all about Micheal J. Fox's comeback to the medium that made him a star in the 1980's with Family Ties.

Character to watch: Michael J. Fox as Mike Flaherty.
Journal your answers to the following questions after you watch the series.
How does this particular character's journey compare with yours?
Did the character develop certain characteristics during the movie that you have or that you would like to have? If so, what are those characteristics?
What obstacles did this character face? What was his or her biggest challenge?
What would you have done differently if you had been in the same position as the character?
Is this character the type of person you would be friends with? Why or why not?