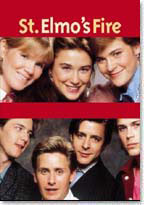 The film introduces us to the recent graduates of Georgetown University Alec (Judd Nelson), Alec's girlfriend Leslie (Ally Sheedy), Kevin (Andrew McCarthy), Jules (Demi Moore), and Kirby (Emilio Estevez) who are awaiting to hear the conditions of their friends Wendy (Mare Winningham), a sweet natured girl devoted to helping others, and Billy (Rob Lowe), a former frat boy and now reluctant husband and father, who were in a car accident together. Neither is seriously hurt but Wendy's car is completely totaled and Billy is arrested at the hospital for driving under the influence.
While at the hospital, Kirby sees a medical student named Dale (Andie MacDowell), with whom he has been infatuated with since college.Later the group gathers at their favorite college hang out, St. Elmo's Bar. It is revealed that Billy has been recently fired from the job Alec helped him secure and his marriage is getting increasingly unstable.
Later, at their studio apartment, Alec tells Leslie he is planning to switch political parties in order to secure a better job. He also pressures her to marry him but Leslie is convinced that they are not ready. Meanwhile, Kirby is telling Kevin of his love for Dale when Billy shows up, asking to spend the night as he cannot deal with his wife.
Director: Joel Schumacher
Year of Release: 1985

Character to watch: Demi Moore as Jules Jacoby.
Journal your answers to the following questions after you watch the movie.
How does this particular character's journey compare with yours?
Did the character develop certain characteristics during the movie that you have or that you would like to have? If so, what are those characteristics?
What obstacles did this character face? What was his or her biggest challenge?
What would you have done differently if you had been in the same position as the character?
Is this character the type of person you would be friends with? Why or why not?