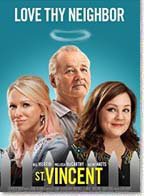 Maggie (Melissa McCarthy), a single mother, moves into a new home in Brooklyn with her 12-year old son, Oliver (Jaeden Lieberher). Forced to work long hours, she has no choice but to leave Oliver in the care of their new neighbor, Vincent (Bill Murray), a retired curmudgeon with a penchant for alcohol and gambling.An odd friendship soon blossoms between the improbable pair.
Together with a pregnant stripper named Daka (Naomi Watts), Vincent brings Oliver along on all the stops that make up his daily routine – the race track, a strip club, and the local dive bar. Vincent helps Oliver grow to become a man, while Oliver begins to see in Vincent something that no one else is able to: a misunderstood man with a good heart.
Murray manages to infuse just the right amount of humor and child endangerment exploits into his character to keep the film from becoming one you've seen before. Sure the final act has some touching moments that border on mawkishness but whether or not you buy in will depend on your level of cynicism. For its faults, I loved the film and watching Murray in action is always fun.
While this movie was classified by most as a comedy, I would probably go so far as to call it a dramedy, even though I hate the term. It was pretty funny, but also had some touching and real moments, with more substance than a straight comedy typically has. The first half of the movie was hilarious, with me laughing hysterically at Murray's dark sense of humor and the inappropriateness of his character. Then for the last part of the movie, things became a bit more serious, and I was trying to keep from shedding a tear here and there. However, there were still plenty of funny parts to ease the tension and provide comic relief.
Director: Theodore Melfi
Year of Release: 2014

Character to watch: Bill Murray as Vincent.
Journal your answers to the following questions after you watch the movie.
How does this particular character's journey compare with yours?
Did the character develop certain characteristics during the movie that you have or that you would like to have? If so, what are those characteristics?
What obstacles did this character face? What was his or her biggest challenge?
What would you have done differently if you had been in the same position as the character?
Is this character the type of person you would be friends with? Why or why not?