Author: Mary Henderson
Year of Release: 1997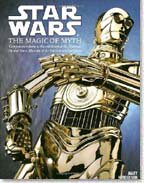 Star Wars(r)TM has captured the hearts and imaginations of millions and millions of people like no other story of our time.  This official companion volume to the landmark exhibit at the Smithsonian Institution's National Air and Space Museum explores the mythological roots of the Star Wars saga, a story that will continue to unfold into the next millenium.
Written by the exhibit's curator and illustrated with hundreds of photographs, drawings and images, Star Wars(r): The Magic of Myth illuminates this modern tale of the ageless and mythic battle of good versus evil. This decoding of the story, expanded (with due credit) from the late Joseph Campbell's The Power of Myth, shows that the fairy-tale quality of the saga is far from coincidental.
Indeed, Lucas, in a taped interview that visitors can watch, explains how he spent two years studying mythology when he was writing the Star Wars scripts. No wonder we feel the hand of fate at work when a plea for help serves as Luke's call to adventure. It was ever thus with damsels in distress, as Perseus learned with Andromeda. And it should be no surprise when a fatherly magician gives Lucas's hero an Excaliburesque light saber.
Within this book I would say this incredible look into the mix of Mythology, History and Star Wars that I have ever seen. A great companion Book to the "Magic of Myth" exhibit.. and it would make a great companion book to the Joesph Campbell books "The Hero with a Thousand faces and "The Power of Myth."
Basically giving the impression of the origin of the Star Wars Films. How Lucas was influenced with all these ideas and made the films what they are today. How timeless the story really has been. Also available is some of the pre production artwork from the Classic Trilogy.