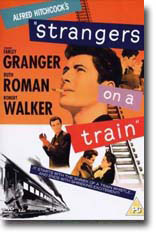 Bruno Anthony (Robert Walker) thinks he has the perfect plot to rid himself of his hated father and when he meets tennis player Guy Haines (Farley Granger) on a train, he thinks he's found the partner he needs to pull it off. His plan is relatively simple. Two strangers each agree to kill someone the other person wants disposed of.
For example, Guy could kill his father and he could get rid of Guy's wife Miriam (Kasey Rogers), freeing him to marry Anne Morton (Ruth Roman), the beautiful daughter of a U.S. Senator (Leo G. Carroll).
Guy dismisses it all out of hand but Bruno goes ahead with his half of the 'bargain' and disposes of Miriam. When Guy balks, Bruno makes it quite clear that he will plant evidence to implicate Guy in her murder if he doesn't get rid of his father.
Guy had also made some unfortunate statements about Miriam after she had refused him a divorce. It all leads the police to believe Guy is responsible for the murder, forcing him to deal with Bruno's mad ravings.
It begins with the shriek of a train whistle and ends with shrieking excitement. Young America's idol – a good looking stranger in search of sensation – and a girl in love. These are the people around whom Alfred Hitchcock spins his wonderful web of suspense and surprise and brings a pounding new tempo to motion picture entertainment.
Director: Alfred Hitchcock
Year of Release: 1951

Character to watch: Farley Granger as Guy Haines.
Journal your answers to the following questions after you watch the movie.
How does this particular character's journey compare with yours?
Did the character develop certain characteristics during the movie that you have or that you would like to have? If so, what are those characteristics?
What obstacles did this character face? What was his or her biggest challenge?
What would you have done differently if you had been in the same position as the character?
Is this character the type of person you would be friends with? Why or why not?