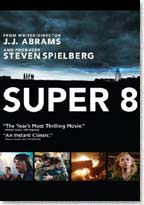 In April 1979, Deputy Sheriff Jack Lamb (Kyle Chandler) of Lillian, Ohio, and his 14-year-old son Joe (Joel Courtney), mourn the death of his wife in a factory accident. Jack blames his wife's co-worker, Louis Dainard (Ron Eldard), for her death, as she was covering his shift while he was recovering from intoxication the night before.
Four months later, Joe's best friend and cameraman Charles Kaznyk (Riley Griffiths) decides to produce and make a low-budget zombie movie to enter into an international film competition.
Charles enlists the help of their close friends Preston (Zach Mills), Martin (Gabriel Basso), and Cary (Ryan Lee), as well as Dainard's daughter, 14-year-old Alice (Elle Fanning). Joe and Alice, though aware their respective fathers would be furious, become smitten with each other.
Charles decides to film a scene at the local train depot using a passing train to add authenticity to his film. While shooting, Joe witnesses a pickup truck drive onto the tracks and ram the train head-on, causing a massive train derailment as the friends barely escape the resulting chaos and explosions.
The children investigate the wreck and find a pile of strange white cubes, then discover the truck's driver is Dr. Woodward (Glynn Turman), their honors biology teacher. Woodward, barely alive, warns the children at gunpoint to never talk about what they saw that night, or else they and their parents will be killed.
The children flee the scene just as an armed force from the local U.S. Air Force base, led by Colonel Nelec (Noah Emmerich), arrive to secure the scene. Nelec discovers an empty box of Super 8 mm film, and assumes the event was captured on camera.
Director: J. J. Abrams
Year of Release: 2011

Character to watch: Joel Courtney as Joe Lamb.
Journal your answers to the following questions after you watch the movie.
How does this particular character's journey compare with yours?
Did the character develop certain characteristics during the movie that you have or that you would like to have? If so, what are those characteristics?
What obstacles did this character face? What was his or her biggest challenge?
What would you have done differently if you had been in the same position as the character?
Is this character the type of person you would be friends with? Why or why not?