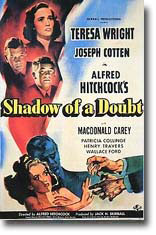 Here is my updated list of the 10 most suspenseful movies of all time. While the term "suspenseful movie" is somewhat subjective, I focused on three main criteria:
Is the movie so suspenseful that it could change someone's behavior?
Does the movie produce

pleasurable excitement and anticipation regarding an outcome

?
Does the movie produce t

he state or quality of being undecided, uncertain, or doubtful

?
Keep in mind that suspenseful movies can be a number of genres, including drama, crime, and/or thriller. So close your curtains, snuggle up with a loved one, and check out my list of suspenseful movies.
1. The Sixth Sense (1999)
Cole Sear is scared to affirm what is to him now a daily occurrence; communicating with the deceased. This peaked 9-year old, already hypersensitive to begin with, is now being haunted by seemingly malevolent spirits. Child psychologist Malcolm is trying to find out what's triggering Cole's visions, but what appears to be a psychological manifestation turns out to be frighteningly real.
Memorable quote from the film, "I see dead people."
2. Shadow of a Doubt (1943)
Alfred Hitchcock considered this 1943 thriller to be his personal favorite among his own films. Scripted by playwright Thornton Wilder and inspired by the actual case of a 1920's serial killer known as "The Merry Widow Murderer," the movie sets a tone of menace and fear by introducing a psychotic killer into the small-town comforts of Santa Rosa, California.
Memorable quote from the film, "What's the use of looking backward? What's the use of looking ahead? Today's the thing – that's my philosophy. Today."
3. The Prestige (2006)
Magician Alfred Borden is sentenced for the murder of rival Robert Angier. Angier's wife Julia drowned performing a water cell act and Angier blames Borden, who professes not to remember if he had tied her with an inappropriate knot. The two become bitter competitors, disrupting each other's acts.
Memorable quote from the film, "Now you're looking for the secret. But you won't find it because of course, you're not really looking. You don't really want to work it out. You want to be fooled.."
4. What Lies Beneath (2000)
Norman Spencer, a university research scientist, is growing more and more concerned about his wife, Claire, a retired concert cellist who a year ago was involved in a serious auto accident. Now, Claire reports hearing voices and witnessing eerie occurrences in and around their lakeside Vermont home, including seeing the face of a young woman reflected in water.
Memorable quote from the film, "I want you to answer one question. Did you have anything to do with her disappearance? "
5. No Country For Old Men (2008)
In rural Texas, Llewelyn Moss discovers the remains of several drug runners who have all killed each other in an exchange gone violently wrong. Rather than report the discovery to the police, Moss decides to take the two million dollars present for himself. This puts the psychopathic killer, Anton Chigurh, on his trail as he dispassionately murders nearly every rival, bystander and even employer in his pursuit of his quarry and the money.
Memorable quote from the film, "You've seen him, and you're not dead?"
6. Misery (1990)
Novelist Paul Sheldon is the author of a series of highly successful novels featuring a character called Misery Chastain. Wanting to focus on more serious novels, he writes a manuscript for a new unrelated novel. He departs from Silver Creek, Colorado to head to Los Angeles but is caught in a blizzard and his car goes off the road. He is rescued by a nurse named Annie Wilkes who brings him to her remote home. Both of Paul's legs are broken and he has a dislocated shoulder, so he can't get out of bed.
Memorable quote from the film, "Oh forgive me Paul for prattling away and making everything all oogy."
7. The Talented Mr. Ripley (1999)
The 1950s. Manhattan lavatory attendant, Tom Ripley, borrows a Princeton jacket to play piano at a garden party. When the wealthy father of a recent Princeton grad chats Tom up, Tom pretends to know the son and is soon offered $1,000 to go to Italy to convince Dickie Greenleaf to return home. In Italy, Tom attaches himself to Dickie and to Marge, Dickie's cultured fiancée, pretending to love jazz and harboring homoerotic hopes as he soaks in luxury.
Memorable quote from the film, "I always thought it would be better, to be a fake somebody… than a real nobody."
8. The Hand That Rocks The Cradle (1990)
Peyton Flanders seemed to be the perfect nanny, but secretly she was out to wreck the lives of the family she was supposed to be helping. Before becoming the nanny, Peyton had a miscarriage, and blamed it on Claire (the mother). Claire suspects nothing, having never met Peyton before. It's unsettling to watch someone who appears so attractive and who behaves so kindly suddenly reveal hideous psychopathic tendencies. Restraining herself from going over the top, she instead oozes such malevolence you'll want to shudder.
Memorable quote from the film, "When your husband makes love to you, it's my face he sees!"
9. Rear Window (1954)
After breaking his leg photographing a racetrack accident, wheelchair bound professional photographer L.B. "Jeff" Jefferies is confined in his Greenwich Village apartment, using a wheelchair while he recuperates. His rear window looks out onto a small courtyard and several other apartments and becomes convinced one of them has committed murder..
Memorable quote from the film, "Why would a man leave his apartment three times on a rainy night with a suitcase and come back three times?"
10. Body Double (1984)
A young actor's obsession with spying on a beautiful woman who lives nearby leads to a baffling series of events with drastic consequences. Jake Scully is a struggling actor who has lost his role in a low budget Vampire B movie after his claustrophobia thwarts shooting. He discovers his girlfriend cheating on him, and is without a place to stay. At a method acting class, he meets Sam, who closely monitors Scully's revelation of his fears and the childhood cause of his claustrophobia.
Memorable quote from the film, "I do not do animal acts. I do not do S&M or any variations of that particular bent."