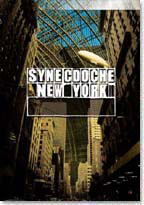 Theater director Caden Cotard (Philip Seymour Hoffman) finds his life unraveling. Suffering from numerous physical ailments and growing increasingly alienated from his wife, Adele, he hits bottom when Adele (Catherine Keener) leaves him for a new life in Berlin, taking their daughter, Olive (Sadie Goldstein, Robin Weigert) with her. Shortly after Adele leaves, Caden unexpectedly receives a grant, giving him the financial means to pursue his theatrical interests.
Caden puts together an ensemble cast in a large warehouse in Manhattan's Theater District. As he works with the actors within the warehouse, Caden continues to look for solutions to his personal crises. He is upset to learn that Adele has become a celebrated painter in Berlin and Olive is growing up under the guidance of others.
After a disastrous fling with the woman who works in the box office, Hazel (Samantha Morton), he marries Claire (Michelle Williams), an actress in his cast. Their relationship ultimately fails, however, and he continues his awkward relationship with Hazel, who is by now married with children.
As the years rapidly pass, the continually expanding warehouse and the show are both isolated from the deterioration of the city outside. Caden buries himself ever deeper into his work, blurring the line between the world of the play and that of reality.
Director: Charlie Kaufman
Year of Release: 2008

Character to watch: Philip Seymour Hoffman as Caden Cotard.
Journal your answers to the following questions after you watch the movie.
How does this particular character's journey compare with yours?
Did the character develop certain characteristics during the movie that you have or that you would like to have? If so, what are those characteristics?
What obstacles did this character face? What was his or her biggest challenge?
What would you have done differently if you had been in the same position as the character?
Is this character the type of person you would be friends with? Why or why not?