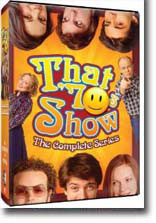 Eric Forman (Topher Grace) is a typical high school student growing up in Wisconsin in 1976 with his family and his friends. Together, they have the same kind of joys and sorrows that just about every teenager has while growing up. This show parodied many of the attitudes, events and fads of the 70s, along with those who grew up at the time.
That 70's Show revolves the lives of several 17-year-olds living in Point Place, Wisconsin, 1976. The head of the group is Eric who lives under the authority of parents Red (Kurtwood Smith) and Kitty (Debra Jo Rupp). Living next door is girlfriend Donna Pinciotti (Laura Prepon) and her parents Bob (Don Stark) and Midge (Tanya Roberts).
The rest of the gang includes Fez (Wilmer Valderrama), a foreign-exchange student who's soaking up American culture like a sponge, Jackie Burkhart (Mila Kunis), her on-again, off-again boyfriend Michael Kelso (Ashton Kutcher), and Steven Hyde (Danny Masterson), a conspiracy theorist who believes Xerox will take over the world.
The gang usually spends their time in Eric's basement, thinking of their lives, parents, and futures, but they manage to get into funny adventures and mishaps along the way through their teenage lives. Back in the days of Led Zeppelin 8-tracks, Tab cola, and Farrah Fawcett posters, That '70s Show continues to flashback to the times where bell bottoms were the hip thing.

Character to watch:  Mila Kunis as Jackie Burkhart
Journal your answers to the following questions after you watch the series.
How does this particular character's journey compare with yours?
Did the character develop certain characteristics during the movie that you have or that you would like to have? If so, what are those characteristics?
What obstacles did this character face? What was his or her biggest challenge?
What would you have done differently if you had been in the same position as the character?
Is this character the type of person you would be friends with? Why or why not?