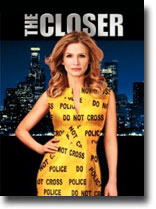 An offbeat personality, a tough-as-nails approach and a track record as one of the country's leading investigators: These are just a few of the traits exhibited by Deputy Police Chief Brenda Leigh Johnson.
For the Atlanta transplant heading up the Priority Homicide Division of the Los Angeles Police Department, her position on this elite detective squad, which handles high-profile cases of a sensitive nature, is a tenuous balancing act. She faces antagonistic roadblocks, even from her own peers within the department, and must manage a team that remains wary of her unconventional style.Kyra Sedgwick's Deputy Chief Brenda Lee Johnson is a marvelous, wonderful, funny, quirky character, with a flawed, insensitive personality. The amusing thing is that as the series goes along, she's obviously trying to figure out how to get along better with those she works with, and she generally succeeds (with one serious exception).
The supporting cast is also very good. Corey Reynolds' David Gabriel is the perfect sidekick for her, veteran character actors G.W. Bailey and Tony Dennison are wonderful as Lts. Provenza and Flynn, John Tenney is wonderful as the exasperated/bemused boyfriend/FBI colleague Fritz, and J.K. Simmons is wonderful as her boss Assistant Chief Will Pope.
The series's first season is especially good. For one thing, there's a plot thread throughout the first season as the whole team gets used to her, and she them. It's probably better if you watch the episodes in groups of two or three, over a period of only a few days. That will allow you to see the plot that continues from episode to episode, and that includes the whole dozen episodes.

Character to watch: Kyra Sedgwick as Deputy Chief Brenda Leigh Johnson.
Journal your answers to the following questions after you watch the series.
How does this particular character's journey compare with yours?
Did the character develop certain characteristics during the movie that you have or that you would like to have? If so, what are those characteristics?
What obstacles did this character face? What was his or her biggest challenge?
What would you have done differently if you had been in the same position as the character?
Is this character the type of person you would be friends with? Why or why not?