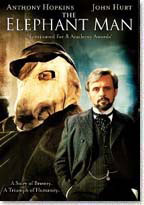 London Hospital surgeon Frederick Treves (Anthony Hopkins) discovers John Merrick (John Hurt) in a Victorian freak show in London's East End, where he is managed by the brutish Bytes (Freddie Jones). Merrick is deformed to the point that he must wear a hood and cap when in public, and Bytes claims he is an imbecile.
Treves is professionally intrigued by Merrick's condition and pays Bytes to bring him to the hospital so that he can examine him. There, Treves presents Merrick to his colleagues in a lecture theatre, displaying him as a physiological curiosity.
Treves draws attention to Merrick's most life-threatening deformity, his abnormally large skull, which compels him to sleep with his head resting upon his knees, as the weight of his skull would asphyxiate him if he were to ever lie down.
On Merrick's return, Bytes beats him severely enough that a sympathetic apprentice alerts Treves, who returns him to the hospital. Bytes accuses Treves of likewise exploiting Merrick for his own ends, leading the surgeon to resolve to do what he can to help the unfortunate man.
The ward nurses are horrified by Merrick's appearance, so Treves places him in a quarantine room under the watchful care of the formidable matron, Mrs. Mothershead (Wendy Hiller). Mr. Carr-Gomm (John Gielgud), the hospital's Governor, is reluctant to house Merrick (who has thus far remained mute), as the hospital is not designed as a residence for incurables.
To persuade Carr-Gomm that Merrick has potential, Treves coaches him to recite a few polite phrases. Carr-Gomm sees through the ruse, but as he walks away, both men are astonished to hear Merrick recite the 23rd Psalm. Shocked by this display of intelligence and literacy, Carr-Gomm allows Merrick to remain.
Merrick is gradually revealed to be sophisticated and articulate. Carr-Gomm arranges a suite of rooms for him to reside in at the hospital, and Merrick passes his days reading, drawing and making a model of a church visible through his window.
One day, Treves brings him to take afternoon tea at home together with his wife, Ann (Hannah Gordon). Merrick, overwhelmed by the familial love he perceives in the domesticity about him, shows them his most treasured possession, a picture of his mother, and expresses his wish that she would love him if she could only see what "lovely friends" he now has.
Director: David Lynch
Year of Release: 1980

Character to watch: John Hurt as John Merrick.
Journal your answers to the following questions after you watch the movie.
How does this particular character's journey compare with yours?
Did the character develop certain characteristics during the movie that you have or that you would like to have? If so, what are those characteristics?
What obstacles did this character face? What was his or her biggest challenge?
What would you have done differently if you had been in the same position as the character?
Is this character the type of person you would be friends with? Why or why not?