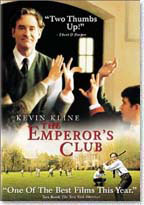 William Hundert (Kevin Kline )is a passionate Classics professor enthusiastic about the start of the school year. His class turns out to be a strict yet inspiring lesson for the new students arriving at St. Benedict's Academy. They include laid-back Louis Masoudi (Jesse Eisenberg), the introverted Martin Blythe (Paul Dano), and the studious Deepak Mehta (Rishi Mehta), all highly intelligent.
Hundert inspires his students to study hard in order to become one of the three contestants for The Emperor's Club and be crowned Mr. Julius Caesar, a competition which puts the top three students of his class in a contest where they will be asked questions regarding the Classics. When Headmaster Woodbridge (Edward Herrmann) headmaster explains the contest to the students, he mentions that Martin's father was once a Mr. Julius Caesar.
Hundert quickly gains the respect of his class and the school year gets off to an orderly start. However, Hundert's tightly controlled world is shaken when a new student, Sedgewick Bell (Emile Hirsch), walks into his classroom. Bell is the cocky son of a senior U.S. Senator who possesses none of Hundert's principles. A fierce battle of wills begins between Hundert and Bell.
Bell's rebellious nature quickly makes him the interest of the class, as he not only is willing to talk back against Hundert, he also freely shares pornographic material and is willing to play hooky and travel off-limits to a nearby prep school for girls. Despite Blythe's frequent pleas not to break the rules, Masoudi and even studious Mehta find themselves enjoying their rebellious tendencies with Bell.
Director: Michael Hoffman
Year of Release: 2002

Character to watch: Kevin Kline as William Hundert.
Journal your answers to the following questions after you watch the movie.
How does this particular character's journey compare with yours?
Did the character develop certain characteristics during the movie that you have or that you would like to have? If so, what are those characteristics?
What obstacles did this character face? What was his or her biggest challenge?
What would you have done differently if you had been in the same position as the character?
Is this character the type of person you would be friends with? Why or why not?