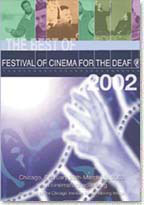 In 2001, the nonprofit organization The Chicago Institute for the Moving Image (CIMI) formed a think tank on the subject of "Deaf Cinema", in order to address the specific needs of deaf audiences at a deaf film festival setting.
Then in 2002, they founded the Festival for Cinema of the Deaf and held consecutive festivals and think tanks in 2003 and 2004 in Chicago, as well as festivals in Tampa, Boston and Texas.
The mission of the Festival for Cinema of the Deaf was to open the doors to the millions of deaf and hard-of-hearing people worldwide so they could enjoy and understand movies in the theater. The organization created a forum for deaf writers, actors and directors to showcase their work under the heading of Deaf Cinema.
Chicago festivals were held consecutively in 2002, 2003, and 2004, with CIMI-led deaf film festivals held in Tampa, Boston and Texas. Academy Award winning actress Marlee Matlin hosted the 2004 Festival.
In addition to film screenings, CIMI's mission includes extensive outreach programs aimed at making the world of motion pictures more accessible to children of all backgrounds. Their programs include animation workshops, motivational speaking and classroom visits, as well as special free screenings for kids.
The Festival for Cinema of the Deaf worked to promote accessibility in theaters, encouraging captioned films for deaf and hard-of-hearing audiences. They also encouraged theaters to show captioned or subtitled films, in addition to promoting the works of deaf artists.

Click here to order the DVD BEST OF FESTIVAL OF CINEMA FOR THE DEAF.