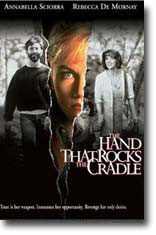 A potboiler featuring a demented caretaker and a seemingly hapless suburban family, this is The Nanny of the 1990s. However, it is much more predictable than that 1965 Bette Davis psychodrama, and more graphic. It works only because Rebecca De Mornay makes us intensely uncomfortable as the disturbed au pair who wants to take care of much more than her employer's well-being.
Annabella Sciorra plays the perfect mother of a flawless family. Her obstetrician, however, is less than wonderful, having enjoyed her examination much more than he should have. When she files sexual harassment charges against the repugnant doctor, he loses face–literally–after shooting himself in the head. Several months later, an ideal nanny shows up at her home. You guessed it–she's the doc's widow.
The movie follows a tried and true formula, with the audience in on everything. However, the story does surprise us in intense and intimate ways. The visit to the obstetrician is one of the creepiest moments in the film. You definitely hear the voice of writer Amanda Silver in a plot concerned with the vulnerabilities of a family, a newborn, a marriage.
Since we know so much up front, there is an overall lack of inventiveness in the plot machinations. It may not jolt us, but De Mornay does. It's unsettling to watch someone who appears so attractive and who behaves so kindly suddenly reveal hideous psychopathic tendencies. Restraining herself from going over the top, she instead oozes such malevolence you'll want to shudder.
Director:  Curtis Hanson
Year of Release: 1992

Character to watch: Annabella Sciorra as Claire Bartel.
Journal your answers to the following questions after you watch the movie.
How does this particular character's journey compare with yours?
Did the character develop certain characteristics during the movie that you have or that you would like to have? If so, what are those characteristics?
What obstacles did this character face? What was his or her biggest challenge?
What would you have done differently if you had been in the same position as the character?
Is this character the type of person you would be friends with? Why or why not?