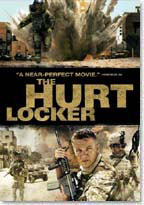 The Hurt Locker opens with a quotation from War Is a Force That Gives Us Meaning, a best-selling 2002 book by Chris Hedges, a New York Times war correspondent and journalist: "The rush of battle is a potent and often lethal addiction, for war is a drug."
Sergeant First Class William James (Jeremy Renner), a battle-tested veteran, arrives as a new team leader of a U.S. Army Explosive Ordnance Disposal (EOD) unit in the Iraq War. replacing Staff Sergeant Matthew Thompson (Guy Pearce), who was killed by a radio-controlled 155mm improvised explosive device (IED) in Baghdad. His team comprises Sergeant J.T. Sanborn (Anthony Mackie) and Specialist Owen Eldridge (Brian Geraghty).
James' maverick methods and attitude lead Sanborn and Eldridge to consider him reckless, and tensions mount. When they are assigned to destroy some explosives in a remote desert area, James returns to the detonation site to pick up his gloves. Sanborn openly contemplates killing James by "accidentally" triggering the explosion, making Eldridge very uncomfortable, but he does nothing.
After his rotation ends, James returns home to his wife, Connie (Evangeline Lilly), and their infant son. However, he feels agitated by the boredom of routine civilian life with its ordinary tasks of shopping at the supermarket and family dinners. One night, James confesses to his son that there is only one thing that he knows he loves. Shortly thereafter, he starts another tour of duty serving with another EOD unit as they are starting their 365-day rotation.
James, unlike his affable predecessor, he is a wild man. He seems not only indifferent to the dangers of his job, he absolutely revels in the dangers. It is the ultimate in thrill seeking behavior, getting that dopamine surge in his brain. Near the end of the movie, Sgt. James gets accused of being an adrenaline junkie, but we know now that the neurochemical at work here is dopamine. Bomb disposal is not just a job for him, but his passion, his addiction, his reason for being in the Army.
Director:  Kathryn Bigelow
Year of Release: 2008

Character to watch: Jeremy Renner as Sergeant First Class William James.
Journal your answers to the following questions after you watch the movie.
How does this particular character's journey compare with yours?
Did the character develop certain characteristics during the movie that you have or that you would like to have? If so, what are those characteristics?
What obstacles did this character face? What was his or her biggest challenge?
What would you have done differently if you had been in the same position as the character?
Is this character the type of person you would be friends with? Why or why not?