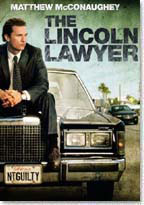 Criminal defense attorney Mickey Haller (Matthew McConaughey) operates around Los Angeles County out of his black Lincoln Town Car. Haller has spent most of his career defending garden-variety criminals, including a member of a local biker gang, until he lands the case of his career: Louis Roulet (Ryan Phillippe), a Beverly Hills playboy and son of real estate mogul Mary Windsor (Frances Fisher), is accused of the brutal beating of prostitute Reggie Campo.
Haller thinks Roulet is innocent, having simply been at the wrong place at the wrong time. Haller and his investigator Frank Levin (William H. Macy) analyze the pictures and evidence, notably the injuries the victim sustained. It bears a similarity to a past case of Haller that landed a previous client, Jesus Martinez (Michael Peña), in prison for life for murder, despite always proclaiming his innocence.
Haller has a daughter with his ex-wife, prosecutor Maggie McPherson (Marisa Tomei), who has never appreciated Haller's efforts on behalf of guilty clients. Haller begins to wonder if he should have tried harder on behalf of Martinez instead of convincing him to plead guilty in exchange for avoiding the death penalty.
ow far would you go to correct a wrong? After agreeing to take on a case he assumes is an easy win Mickey (McConaughey) soon learns appearances are deceiving. When he finds out the truth and tries to expose it his friends and family are put at risk. I have to admit I actually think McConaughey is very good at playing parts like this. As in "Time To Kill" and "Two For The Money". The smooth man pushed to the edge.
Saying almost anything about the movie will give too much info away but I will admit that after being in the "Movie Business" for over 10 years I've seen enough that it's very hard for me to be surprised at a movies ending. The twist at the end of this one had me totally thrown and I love when that happens. I had high expectations for this and it surpassed them all. Watch this movie, you will not regret it. I loved it. As a plus this is a movie that exposes the flaws in the justice system, which will make you mad, and at the same time make you wish more lawyers are like Mickey Haller.
Director: Brad Furman
Year of Release: 2011

Character to watch: Matthew McConaughey as Mickey Haller.
Journal your answers to the following questions after you watch the movie.
How does this particular character's journey compare with yours?
Did the character develop certain characteristics during the movie that you have or that you would like to have? If so, what are those characteristics?
What obstacles did this character face? What was his or her biggest challenge?
What would you have done differently if you had been in the same position as the character?
Is this character the type of person you would be friends with? Why or why not?