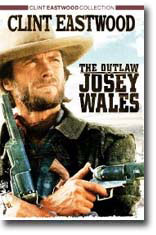 The Outlaw Josey Wales was Clint Eastwood's 31st film as an actor, 20th as international star, and 5th as director, but was the first to win him widespread respect. Critics had initially grumbled when hearing that Eastwood had replaced Philip Kaufman as the director a week into shooting.
However, they ended up cheering when Eastwood delivered both his most sympathetic performance to date and an impressive Panavision epic that stressed the scruffiness, rather than merely the scenic splendors, of frontier life.
The film is a brutal, thoughtful western, a near-tragedy about a Civil War veteran Josey Wales (Eastwood) whose past comes looking for him. Hoping to build a quiet life in a cooperative community of settlers, Wales blames himself when his enemies attack the homestead, and he has to revert to his warrior instincts to help fend off the threat.
The jittery intensity of Laura Lee (Sondra Locke), and the screen-filling charisma of the Lone Watie (Dan George) harmonize beautifully with Wales. Wales is a peaceful farmer in the days near the end of the Civil War. After his home is burned and his family murdered, he hardens into a human bullet dedicated to destroying the renegades who took his family.
Wales joins a band of unreconstructed rebel fighters who continue to fight the Union – even after the official surrender of the Confederacy an action which makes them, legally, outlaws. Josey is driven by vengeance, but after a while, that's not enough. Back before his own personal Holocaust, he had been a builder of home, family, farm, and life. And no matter how much ice he's wrapped himself in, down inside there's still the soul of a living man.
While Wales exists, he's pulled by this hidden yearning to live. Each day offers him chances to remember, to assuage his yearning, to begin again. And the movie shows us how Josey Wales – a mere seeker of vengeance – learns to live again, rededicated to the values he chose so long ago.
Director:  Clint Eastwood
Year of Release: 1976

Character to watch: Clint Eastwood as Josey Wales.
Journal your answers to the following questions after you watch the movie.
How does this particular character's journey compare with yours?
Did the character develop certain characteristics during the movie that you have or that you would like to have? If so, what are those characteristics?
What obstacles did this character face? What was his or her biggest challenge?
What would you have done differently if you had been in the same position as the character?
Is this character the type of person you would be friends with? Why or why not?