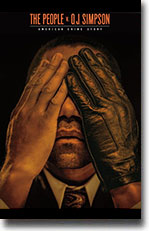 The People V. O.J. Simpson focuses on the lawyers on the both sides of the case against O.J. Simpson (Cuba Gooding, Jr.) with John Travolta as Robert Shapiro, Sarah Paulson as Marcia Clark, David Schwimmer as as Robert Kardashian, and Courtney Vance as Johnnie Cochran.
This is a remarkable piece of work that carves muscular narrative lines though the tangled legal thickets of the trial while keeping a delicate touch on the chiaroscuro of its characterizations. If ever there was such a thing as must-see TV, this is it.
The People vs. O.J. Simpson starts off with already becoming the best new show of 2016. Every well executed with an beyond superb cast and a brilliant team of writers, directors, and producers. Ryan Murphy once again brings another amazing cast together and creates another piece of television magic and American history.

People v. O.J. follows both legal teams as they set about manipulating the demographics of the trial jury. The defense angles for as many black jurors as possible; the prosecution, for as many women, confident that gender identity politics would trump those of race when testimony of Simpson's physical abuse of Nicole unfolded. Marcia Clark, the chief prosecutor, also believes she had a special connection to black women, which turned out to be true: "She seems like a bitch," said one in a jury-selection test group after being shown tapes of Cross in action.
Thanks to accounts like New Yorker correspondent Jeffrey Toobin's book The Run of His Life (from which People v. O.J. is loosely adapted), it's Simpson's attorneys who in public memory were almost entirely responsible for turning the trial into a race-baiting spectacle. But Murphy, who directed most of People v. O.J., and Scott Alexander and Larry Karaszewski, correctly see race as a weapon wielded by nearly everybody involved in the case, including the press: Time magazine even electronically darkened Simpson's mug shot for its cover to make it scarier to (white) readers, a fact that became manifestly obvious when Newsweek used the same photo, undoctored, on its cover.
People v. O.J.'s captivating exploration of the trial's racial dynamics is equaled by its portrayal of the complicated and often prickly personalities on the legal teams, riven by personal jealousies, professional insecurities and ruthless ambition careerism. Everything about this series is superb, and every actor provides the performance of their career. There's plenty of room for character analysis here.

Character to watch: Courtney B. Vance as Johnnie Cochran.
Journal your answers to the following questions after you watch the series.
How does this particular character's journey compare with yours?
Did the character develop certain characteristics during the movie that you have or that you would like to have? If so, what are those characteristics?
What obstacles did this character face? What was his or her biggest challenge?
What would you have done differently if you had been in the same position as the character?
Is this character the type of person you would be friends with? Why or why not?