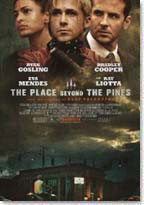 The Place Beyond the Pines is an ambitious epic about choices and the consequences of those choices, and about the relationship between fathers and sons along with how the father's decisions impact their sons.
The film's first act opens with Luke Glanton (Ryan Gosling) a famous motorcycle rider for a traveling state carnival. The man leads an empty life without any meaning besides his job and bike. That changes when Romina (Eva Mendes) an old fling returns comes to see him after a year.
It turns out that Luke has a son, Jason who he had no knowledge of and has no part in his son's life. He's forced to watch as another man raise and be a part of his baptism. Luke wants to be a part of his son's life saying a son needs his father after all Luke didn't have a father and look how badly he turned out, but as it is pointed out to him by a few people he has a limited skill set so if he can barely take care of himself how can he take care of Romina and their son.
Avery Cross (Bradley Cooper) stars in the second act. Avery a rookie police officer who's been on the job barely a year when he becomes a hero after he successfully takes down Luke Glanton on his own. Avery is a very ambitious man wanting to rise to the highest level of office, and he pays the price for it when he gets involved with officer Deluca (Ray Liotta) and his fellow corrupt cops.
Avery already has a guilty conscience about taking Jason's father away from him, so much so that Avery can barely look at his own son, AJ when he is forced to make a moral decision does he continue to help Deluca or does he try and bring them down all the while trying to advance his own career. Avery's and Luke's lives and decisions truly come together in the third act of the film which takes place fifteen years in the future.
Director: Derek Cianfrance
Year of Release: 2013

Character to watch: Ryan Gosling as Luke Glanton.
Journal your answers to the following questions after you watch the movie.
How does this particular character's journey compare with yours?
Did the character develop certain characteristics during the movie that you have or that you would like to have? If so, what are those characteristics?
What obstacles did this character face? What was his or her biggest challenge?
What would you have done differently if you had been in the same position as the character?
Is this character the type of person you would be friends with? Why or why not?