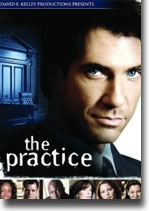 Defense attorney Bobby Donnell (Dylan McDermott) could've had his pick of high-paying jobs at any number of fancy Boston law firms. Instead, he chose to be his own boss. The Practice: Volume One combines all six episodes from the debut mini season in 1997, along with seven episodes from the sophomore year. Though it would've been a more cohesive collection if entire two seasons were included on this four-disc DVD set, it's still a welcome addition for fans of this David E. Kelley drama.Starring McDermott as Bobby, the cast also includes Kelli Williams as uber-attorney Lindsay Dole, Emmy Award winner Camryn Manheim as Ellenor Frutt, and former cop-turned-defense attorney Eugene Young (Steve Harris). Then there's their friend–and also foil–prosecutor Helen Gamble (Lara Flynn Boyle), who admires the team's tenacity but stops at nothing to beat them in court.
During the early seasons, Donnell's firm doesn't bring in enough money to decorate their offices, which are filthy–just like many of their clients. But as they slowly build a reputation as the go-to firm for clients who most likely are guilty but want to be set free, they begin to wrestle with moral dilemmas.
As can be expected from a Kelley series, the cases presented here are fabulously sensationalist. But they also touch on human emotions, such as when they represent a client who was fired for being unattractive. The lawyers also have bittersweet moments as they realize they have surpassed their former legal mentors, some of whom have been seduced by the promise of big money.
The most compelling episodes involve Dole–a brilliant but unseasoned attorney–who slowly and methodically tackles the tobacco industry. While the opponent has teams of senior attorneys, associates, paralegals, and interns at its disposal, Dole tirelessly works the case and refuses to give in, even when the outcome seems inevitable. The end result isn't believable in the least, but her passion sets the groundwork for one of the show's most watchable characters.

Character to watch: Dylan McDermott as Bobby Donnell.
Journal your answers to the following questions after you watch the series.
How does this particular character's journey compare with yours?
Did the character develop certain characteristics during the movie that you have or that you would like to have? If so, what are those characteristics?
What obstacles did this character face? What was his or her biggest challenge?
What would you have done differently if you had been in the same position as the character?
Is this character the type of person you would be friends with? Why or why not?