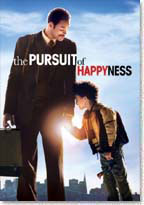 In 1981 San Francisco, Chris Gardner (Will Smith) invests his entire life savings in portable bone-density scanners which he tries to demonstrate and sell to doctors. The investment proves to be a white elephant, which financially breaks the family and as a result, his wife Linda (Thandie Newton) leaves him and moves to New York.
Their son Christopher (Jaden Smith) remains with his father. While downtown trying to sell one of his scanners, Chris meets Jay Twistle (Brian Howe), a manager for Dean Witter and impresses him by solving a Rubik's Cube during a short cab ride.
Chris does not have enough money for the cab fare and flees into a subway station where he barely escapes the angry cab driver but loses one of his bone scanners in the process.
This new relationship with Twistle earns him the chance to become an intern stockbroker, an unpaid position. Despite arriving at his new office unkempt and shabbily dressed due to being arrested the previous day for unpaid parking tickets (and having had to paint his apartment), Chris is offered the internship.
Chris is further set back when his bank account is garnished by the IRS for unpaid income taxes, and he and his young son are evicted. Chris becomes broke and has less than thirty dollars in his bank account. As a result they are homeless, and are forced at one point to stay in a bathroom at a subway station.
A story of hardship and hard work, paternal love and frustration, could easily be too saccharine for words. It's saved from this fate by Chris Gardner's desperation. Behind his indomitable pluck, Gardner is truly desperate. He has no money, no home, uncertain prospects, and the responsibility of providing for a young child. He hides his circumstances from his colleagues. He's spends an inordinate amount of energy chasing errant bone scanners around town. He compromises his ethics. His single-mindedness eventually takes a toll on his son.
Director: Gabriele Muccino
Year of Release: 2006

Character to watch: Will Smith as Chris Gardner.
Journal your answers to the following questions after you watch the movie.
How does this particular character's journey compare with yours?
Did the character develop certain characteristics during the movie that you have or that you would like to have? If so, what are those characteristics?
What obstacles did this character face? What was his or her biggest challenge?
What would you have done differently if you had been in the same position as the character?
Is this character the type of person you would be friends with? Why or why not?