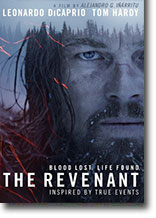 A frontiersman on a fur trading expedition in the 1820's fights for survival after being mauled by a bear and left for dead by members of his own hunting team.
This film transports you to the 1820's American wilderness where the mountain men carved out a living trapping for furs. This movie has captured that time and place like no other I've ever seen including the 70's classic Jeremiah Johnson.
Blizzards, avalanches, and storms are common place, and men have little time for anything but survival in this cold, brutal hell they have found themselves. The beauty of the untouched wilderness is breathtaking to behold and this film captures it like no other.
The language is rough as are the men here but so is the life they are experiencing. Eating raw, and often rotten meat was commonplace for these men back then. It was just a game to stay alive.
Inspired by true events, this movie captures one man's epic adventure of survival and the extraordinary power of the human spirit. In an expedition of the uncharted American wilderness, legendary explorer Glass is brutally attacked by a bear and left for dead by members of his own hunting team.
In a quest to survive, Glass endures unimaginable grief as well as the betrayal of his confidant John Fitzgerald (Tom Hardy). Guided by sheer will and the love of his family, Glass must navigate a vicious winter in a relentless pursuit to live and find redemption.
Director: Alejandro González Iñárritu
Year of Release: 2015

Character to watch: Leonardo DiCaprio as Hugh Glass.
Journal your answers to the following questions after you watch the movie.
How does this particular character's journey compare with yours?
Did the character develop certain characteristics during the movie that you have or that you would like to have? If so, what are those characteristics?
What obstacles did this character face? What was his or her biggest challenge?
What would you have done differently if you had been in the same position as the character?
Is this character the type of person you would be friends with? Why or why not?