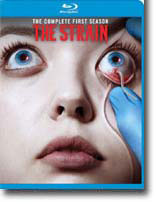 The Strain is a thriller that tells the story of Dr. Ephraim Goodweather, the head of the Center for Disease Control Canary Team in New York City. He and his team are called upon to investigate a mysterious viral outbreak with hallmarks of an ancient and evil strain of vampirism. As the strain spreads, Eph, his team, and an assembly of everyday New Yorkers, wage war for the fate of humanity itself.
Based off of Guillermo Del Toro's and Chuck Hogan's series of novels and subsequent graphic novels of the same name, this is more than a story just about a deadly strain being investigated by the CDC. After a plane lands at JFK with everyone on board dead, Dr. Ephraim Goodweather of the CDC is called to investigate the mystery surrounding the 200 dead passengers.
This story is much more than just a tale about a deadly disease. The hour and a half long pilot was directed by Guillermo Del Toro. The show feels and plays more like a film than your typical television show. The pilot will grip you with its mystery and suspense, and you're sure to be hooked by the final few moments when you realize what kind of story and show you're about to get caught up in.

Character to watch: Corey Stoll as Ephraim Goodweather.
Journal your answers to the following questions after you watch the series.
How does this particular character's journey compare with yours?
Did the character develop certain characteristics during the movie that you have or that you would like to have? If so, what are those characteristics?
What obstacles did this character face? What was his or her biggest challenge?
What would you have done differently if you had been in the same position as the character?
Is this character the type of person you would be friends with? Why or why not?