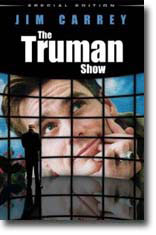 The whole world is watching (literally) every time Truman Burbank (Jim Carrey) makes the slightest move. Unbeknownst to him, his entire life has been an unending soap opera for consumption by the rest of the world. Everyone he knows, including his mother (Holland Taylor) and his wife (Laura Linney), is really an actor, paid to be part of his life.
In this intriguing and surprisingly touching, writer Andrew Niccol imagines an ultimate kind of celebrity, then sees it brought to life with comic intensity and emotional honesty by Jim Carrey in what may be the performance of his career.
Basically, Truman is a man whose life is a fake one. The place he lives is in fact a big studio with hidden cameras everywhere and he is part of the most popular TV-series in the world: The Truman Show. Truman thinks that he is an ordinary man with an ordinary life and has no idea about how he is exploited. Until one day he finds out everything.
It is on day 10,909 of Truman's life that things begin to change. As he's getting ready for work, he greets his neighbors across the street (Fritz Dominique, Angel Schmiedt, and Nastassja Schmiedt), with his traditional greeting of, "Good morning! And in case I don't see you, good afternoon, good evening, and good night", before a mysterious object falls from the sky and lands near his car. When Truman looks up, however, the sky is clear and offers no explanation for the object, which looks just like a studio light. Gradually, Truman gets wise. And what he does about his discovery will have you laughing, crying and cheering.
In spite of its seemingly depressing nature I tremendously enjoyed this movie. I believe it is the issues discussed that were able to touch deep and the quiet, restrained way in which they were portrayed. Another reason would be the beautiful ending that does not say much but leaves you with some hope for human kind.
Director: Peter Weir
Year of Release: 1998

Character to watch: Jim Carrey as Truman Burbank.
Journal your answers to the following questions after you watch the movie.
How does this particular character's journey compare with yours?
Did the character develop certain characteristics during the movie that you have or that you would like to have? If so, what are those characteristics?
What obstacles did this character face? What was his or her biggest challenge?
What would you have done differently if you had been in the same position as the character?
Is this character the type of person you would be friends with? Why or why not?