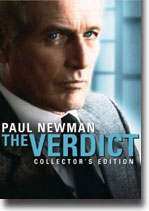 In this 1982 courtroom drama written by David Mamet and directed by Sidney Lumet, Paul Newman found the perfect role for a transitional period of his stellar career. As alcoholic Boston lawyer Frank Galvin, Newman shook off his screen persona as a handsome, blue-eyed hunk to portray an aging, weary man whose best years are behind him, with a shot-glass future that looks very bleak indeed.
When Galvin is given a chance to redeem himself–by proving medical negligence in the case of a comatose woman–he makes one final effort to regain his self-respect and tarnished reputation.
Galvin is an underdog against formidable odds, facing a powerful, politically connected lawyer (James Mason, slick as ever) who will do anything to win his case, regardless of professional ethics. Further complicating matters is a woman (Charlotte Rampling) who only appears to be worthy of Galvin's trust and love, until Galvin's best friend and colleague (Jack Warden) proves otherwise.
Excellent as both courtroom drama and riveting character study, the film crackles with Mamet's sharp dialogue; and Lumet's direction is a brilliant example of forceful restraint. The film gave Newman one of the best roles of his career; many felt he deserved the Oscar (he lost to Ben Kingsley in Gandhi) that would belatedly be given to Newman for The Color of Money. Along with Hud, Cool Hand Luke, and Butch Cassidy and the Sundance Kid, The Verdict ranks highly as a signature performance by one of America's all-time greatest actors.
Director:  Sidney Lumet
Year of Release: 1982

Character to watch: Paul Newman as Frank Galvin.
Journal your answers to the following questions after you watch the movie.
How does this particular character's journey compare with yours?
Did the character develop certain characteristics during the movie that you have or that you would like to have? If so, what are those characteristics?
What obstacles did this character face? What was his or her biggest challenge?
What would you have done differently if you had been in the same position as the character?
Is this character the type of person you would be friends with? Why or why not?