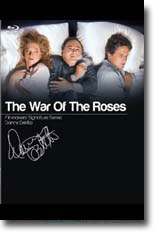 Michael Douglas, Kathleen Turner, and Danny DeVito reunited for a third time to fabulous effect in this dark, disturbing comedy of martial trauma and revenge. Douglas and Turner, in career-best performances, are the materialistic, consumer-driven Roses of the title (Oliver and Barbara) whose seemingly perfect marriage has soured beyond repair; their only point of contact, aside from their two college-bound kids, is their meticulously maintained dream house, which Douglas bought and Turner decorated to perfection.
When Turner gets a taste of financial independence, she asks Douglas for divorce–all she wants is the house and everything in it (aside from his clothes and shaving kit). He laughs at her and she punches him in the face. Things only get worse from there, as nasty divorce proceedings (with DeVito as Douglas's lawyer) give way to insults, threats, ruined dinner parties, and pet abuse.
Through it all, the Roses begin destroying their beloved home and its contents, just to spite each other. DeVito, who also directed, takes Michael Leeson's blacker-than-black screenplay and gives it a hyperstylized spin, complete with skewed camera angles and wonderfully expressionistic cinematography (by Stephen Burum) as Douglas and Turner barricade themselves in their house, both refusing to give an inch.
Shocking for a mainstream studio picture, with its unsympathetic protagonists, escalating bitterness, and disturbing finale, Roses is a poisonously funny valentine to both marriage and '80s materialism, tempered only by its framing device as a cautionary tale. Definitely not a date movie.
After he is rushed to the hospital with an apparent heart attack, she is too busy with her career to even pick him up when he is discharged. Later that night, she tells him that she wants a divorce. From there, the vindictiveness and sniping continue to escalate as both descend into an orgy of mutual contempt and hatred.
There are times when it is possible to feel sorry for both of the characters. More often, both seem to be too contemptible to pity. Each is more concerned with the destruction of the other and "winning" than in any possible healing. There are some differences. He genuinely loves her and she genuinely hates him. This is carried right through to the bitter, and I do mean bitter, end.
Director:  Danny Devito
Year of Release: 1989

Character to watch: Kathleen Turner as Barbara Rose.
Journal your answers to the following questions after you watch the movie.
How does this particular character's journey compare with yours?
Did the character develop certain characteristics during the movie that you have or that you would like to have? If so, what are those characteristics?
What obstacles did this character face? What was his or her biggest challenge?
What would you have done differently if you had been in the same position as the character?
Is this character the type of person you would be friends with? Why or why not?