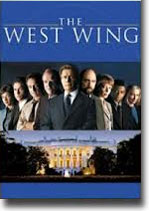 The West Wing ventured where no other TV series had gone before: an extraordinarily intimate look at an American President and the inner workings of the White House. Experience all the crises, triumphs, lofty idealism and hard realities of the acclaimed series in this complete seven-season DVD set. Here, on 45 discs, are all 154 episodes of the series that won 26 Emmys, including 4 for Outstanding Drama Series. Hail to chief – and to the creators and stars of this ground-breaking series.
A prestigious, award-winning drama series like The West Wing deserves first-class treatment on DVD, and the Complete Series Collection really delivers the goods. Like the series itself, the packaging is first-class all the way.
The entire DVD set is held in a dossier file box, with a faux-leather navy blue exterior graced with an embossed silver-foil presidential seal and a magnet-sealing flap that neatly closes the lid with no visible latches or clasps.
In rapid-fire succession you are introduced to Sam Seaborne (Rob Lowe), Leo McGarry (John Spencer), CJ Cregg (Allison Janney), Josh Lyman (Bradley Whitford), and Toby Ziegler (Richard Schiff), the senior staff of a fictional presidential administration, along with the equally-rapid-fire walk-and-talk style that is the series' hallmark under director/executive producer Thomas Schlamme.
By the time the first episode ends, with its closing minutes serving as our first introduction to President Josiah Bartlet (Martin Sheen), intoning "I am the Lord thy God…" with his trademark twinkle, I was hooked. Somehow Sorkin, assisted ably by his journeyman cast of famous and familiar faces, had managed to make me care about a show I had no business caring about. Those first few seasons were about as perfect a collective of television episodes as has ever been produced. Ever. And they have the raft of Emmys (24) to prove it.It's truly a testament to the bravura power of creator Sorkin that he was able to create characters of such lasting vividity that three years after his exit that initial fondness diminished not one iota, not even through cast departures bitter (Lowe's salary-dispute led to his exit in year four) and sudden (Spencer's death by heart attack).

Character to watch: Martin Sheen as President Josiah 'Jed' Bartlet.
Journal your answers to the following questions after you watch the series.
How does this particular character's journey compare with yours?
Did the character develop certain characteristics during the movie that you have or that you would like to have? If so, what are those characteristics?
What obstacles did this character face? What was his or her biggest challenge?
What would you have done differently if you had been in the same position as the character?
Is this character the type of person you would be friends with? Why or why not?