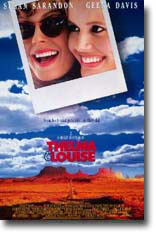 Thelma & Louise is a feminist manifesto writ large on the big screen, a smart and funny gender reversal of the standard Hollywood buddy formula, a road movie extraordinaire, with characters who became instant cultural icons. No matter how you define it, Ridley Scott's 1991 box-office hit pinched a nerve and made the cover of national news magazines for tweaking gender politics like no movie before or since.
Callie Khouri's screenplay overhauls the buddy formula with its story about two best friends (Susan Sarandon and Geena Davis) who embark on a liberating adventure that turns into an interstate police chase after a traumatic incident makes both women into fugitives; they are en route to a destiny they could never have imagined.
The perfect casting of Sarandon and Davis makes Thelma & Louise a movie for the ages, and Brad Pitt became an overnight star after his appearance as a sweet-talking hitchhiker con-artist cowboy who gives Davis a memorable (but costly) night in a roadside motel.
Thelma & Louise is an exhilarating full-throttle adventure when the two female friends become accidental outlaws on a desperate flight across the Southwest after a tragic incident at a roadside bar. With a determined detective (Harvey Keitel) on their trail. With a string of crimes in their wake, their journey alternates between hilarious, high-speed thrill ride and empowering personal odyssey even as the law closes in.
Director: Ridley Scott
Year of Release: 1991

Character to watch: Susan Sarandon as Louise Sawyer.
Journal your answers to the following questions after you watch the movie.
How does this particular character's journey compare with yours?
Did the character develop certain characteristics during the movie that you have or that you would like to have? If so, what are those characteristics?
What obstacles did this character face? What was his or her biggest challenge?
What would you have done differently if you had been in the same position as the character?
Is this character the type of person you would be friends with? Why or why not?