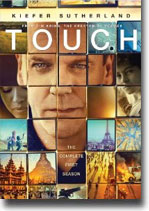 Kiefer Sutherland stars in this smart and hopeful drama about the ties that bind all of us together. Single father Martin Bohm (Sutherland) struggles to raise his emotionally challenged son Jake. But Martin soon discovers that Jake possesses an amazing gift: the ability to see the hidden patterns of numbers that connect every life on the planet.
With the help of a brilliant professor (Danny Glover), Martin learns to communicate with Jake and help people around the world. Blending science and spirituality, this unique series will touch you in ways you never thought possible.
The theme of Touch is that we are all connected in inexplicable ways. A man in Ireland takes a cell phone video of co-worker Kayla Graham performing in a local club. He tells Kayla she's going to end up a superstar, and then he slips the cell phone into a random backpack. By the end of the episode, that cell phone video is projected on a massive Times Square-style screen in Tokyo – superstardom, indeed.
This is just a small example of the often miraculous interconnections revealed in this episode. Jake is obsessed with numbers on busses, lottery tickets, cell phones, newspapers, and calendars, using them as road maps to people and events that can be life-changing. One such chain of numbers connects the firefighter who tried to save Martin's wife back on 9/11 with a winning lottery ticket and a bus filled with school children. These are global connections that are overwhelming in scope.
It's also a show with a lot of heart – there's one particular sequence where a grieving father experiences unexpected grace in a very unexpected way. This is an emotionally gripping show that knows the difference between sentiment and sentimentality.

Character to watch: Kiefer Sutherland as Martin Bohm.
Journal your answers to the following questions after you watch the series.
How does this particular character's journey compare with yours?
Did the character develop certain characteristics during the movie that you have or that you would like to have? If so, what are those characteristics?
What obstacles did this character face? What was his or her biggest challenge?
What would you have done differently if you had been in the same position as the character?
Is this character the type of person you would be friends with? Why or why not?