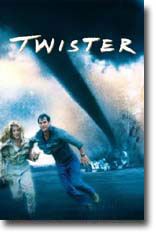 A mile-wide, 300 miles-per-hour force of total devastation is coming at you! In this adventure swirling with cliffhanging excitement and awesome special effects, Jo Harding (Helen Hunt) and Bill Harding (Bill Paxton) play scientists pursuing the most destructive weatherfront to sweep through mid-America's Tornado Alley in 50 years.By launching electronic sensors into the funnel, the storm chasers hope to obtain data to create an improved warning system. But to do so, they must intercept the twisters' deadly path.
Ask anybody who's seen it and they'll tell you who the real star of Twister is the cow. Not to give anything away, but the cow is one of those inspired little touches that adds a touch of personality to a gigantic Hollywood production.
The story is accentuated with an impressive prologue in which Jo Harding, as a little girl, witnesses her daddy being sucked into a tornado. Basically, the Hardings are thrill-seeking meteorologists chasing twisters in order to study them (and help warn people of them, of course) with a new technology they've developed.
The acting is good, and occasionally excellent. I have to say that while Helen Hunt and Bill Paxton are good, the most memorable characters in the show are members of Hunt's support team. You may be wondering, do people like them actually exist in the world? You bet they do.
Director:  Jan de Bont
Year of Release: 1996

Character to watch: Helen Hunt as Jo Harding.
Journal your answers to the following questions after you watch the movie.
How does this particular character's journey compare with yours?
Did the character develop certain characteristics during the movie that you have or that you would like to have? If so, what are those characteristics?
What obstacles did this character face? What was his or her biggest challenge?
What would you have done differently if you had been in the same position as the character?
Is this character the type of person you would be friends with? Why or why not?