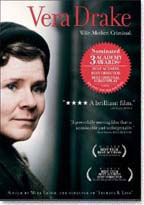 Vera Drake (Imelda Staunton), a working-class woman in London in 1950, is devoted to her family, looking after her husband and children, her elderly mother, and a sick neighbor. Her son, Sid (Daniel Mays), works as a tailor and her daughter, Ethel (Alex Kelly), works in a lightbulb factory. Her husband, Stanley (Phil Davis), works as a car mechanic.
Their strong family bonds hold them together and Vera is constantly doing small acts of kindness towards everyone she encounters. Vera works as a house cleaner, and, unbeknownst to her family, she also serves as a backroom abortionist.
Vera receives no money for the abortions she performs and she believes that her work is an act of charity. However, Lily (Ruth Sheen), who also carries on a black-market trade in scarce postwar foodstuffs, charges two guineas (two pounds and two shillings: equivalent to £48 in 2005) for arranging the abortions, without Vera's knowledge.
After one of her patients nearly dies, Vera is arrested by the police and taken into custody for questioning. She is held overnight and appears before a judge the next morning. Sid is shocked by his mother's secret activities and tells his father that he does not think that he can forgive her.
Director: Mike Leigh
Year of Release: 2004

Character to watch: Imelda Staunton as Vera Drake.
Journal your answers to the following questions after you watch the movie.
How does this particular character's journey compare with yours?
Did the character develop certain characteristics during the movie that you have or that you would like to have? If so, what are those characteristics?
What obstacles did this character face? What was his or her biggest challenge?
What would you have done differently if you had been in the same position as the character?
Is this character the type of person you would be friends with? Why or why not?