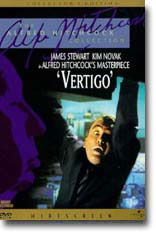 Although it wasn't a box-office success when originally released in 1958, Vertigo has since taken its deserved place as Alfred Hitchcock's greatest, most spellbinding, most deeply personal achievement. In fact, it consistently ranks among the top 10 movies ever made in the once-a-decade Sight & Sound international critics poll, placing at number 4 in the 1992 survey.
James Stewart is brilliant as Scottie Ferguson, a retired police detective who is hired by an old friend to follow his wife (a superb Kim Novak, in what becomes a double role), whom he suspects of being possessed by the spirit of a dead madwoman. After he saves her from drowning in the bay, Scottie's interest shifts from business to fascination with the icy, alluring blonde. When he finds another woman remarkably like his lost love, the now obsessed detective must unravel the secrets of the past to find the key to his future.
The detective and the disturbed woman fall in love. Shot around San Francisco (the Golden Gate Bridge and the Palace of the Legion of Honor are significant locations) and elsewhere in Northern California (the redwoods, Mission San Juan Batista) in rapturous Technicolor, Vertigo is as lovely as it is haunting.
Vertigo is one of those films that is so ahead of its time, no one at the time of release is able to appreciate it. It was dismissed by critics, ignored by audiences and, to my knowledge, didn't win a single Academy Award (this last part isn't shocking — Citizen Kane didn't win Best Picture). It's interesting that the reputation of this film seems to have grown substantially since the public found out more about Alfred Hitchcock's private life.
Scottie Ferguson's obsession with Kim Novak mirrors Hitch's own obsession with beautiful blondes, most notably Grace Kelly. Actors often bare their souls to the world, but very rarely are we aware when a director bares his/her soul. Those who dismiss Hitchcock as just a taskmaster director of suspense films should study Vertigo. He is essentially dealing with his own weaknesses and inner demons on film.
Director: Alfred Hitchcock
Year of Release: 1958

Character to watch: James Stewart as Scottie Ferguson.
Journal your answers to the following questions after you watch the movie.
How does this particular character's journey compare with yours?
Did the character develop certain characteristics during the movie that you have or that you would like to have? If so, what are those characteristics?
What obstacles did this character face? What was his or her biggest challenge?
What would you have done differently if you had been in the same position as the character?
Is this character the type of person you would be friends with? Why or why not?