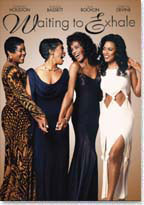 Four African-American women, Bernie (Angela Bassett), Savannah (Whitney Houston), Robin (Lela Rochon), and Gloria (Loretta Devine), go through different stages of love and life. The four friends get together to provide support, listen to each other vent about life and love, and have fun, as they go through life's trials and tribulations.
Bernadine abandons her career dreams and desire of having a catering business to raise a family and support her husband, who leaves her for a white woman. Robin is a high-powered executive and the long-time mistress of a married man. Savannah is a successful television producer who holds on to the belief that one day her married lover will leave his wife for her.
Gloria is a beauty salon owner and single mother. After years alone, and finding out that her ex-husband who is also the father of her son, has come out of the closet as gay, she falls in love with a new neighbor, Marvin King (Gregory Hines).
Director: Director: Forest Whitaker
Year of Release: 1995

Character to watch: Angela Bassett as Bernadine Harris.
Journal your answers to the following questions after you watch the movie.
How does this particular character's journey compare with yours?
Did the character develop certain characteristics during the movie that you have or that you would like to have? If so, what are those characteristics?
What obstacles did this character face? What was his or her biggest challenge?
What would you have done differently if you had been in the same position as the character?
Is this character the type of person you would be friends with? Why or why not?